In summer 2020, HIP Detector Laboratory had first-ever remote-working summer trainees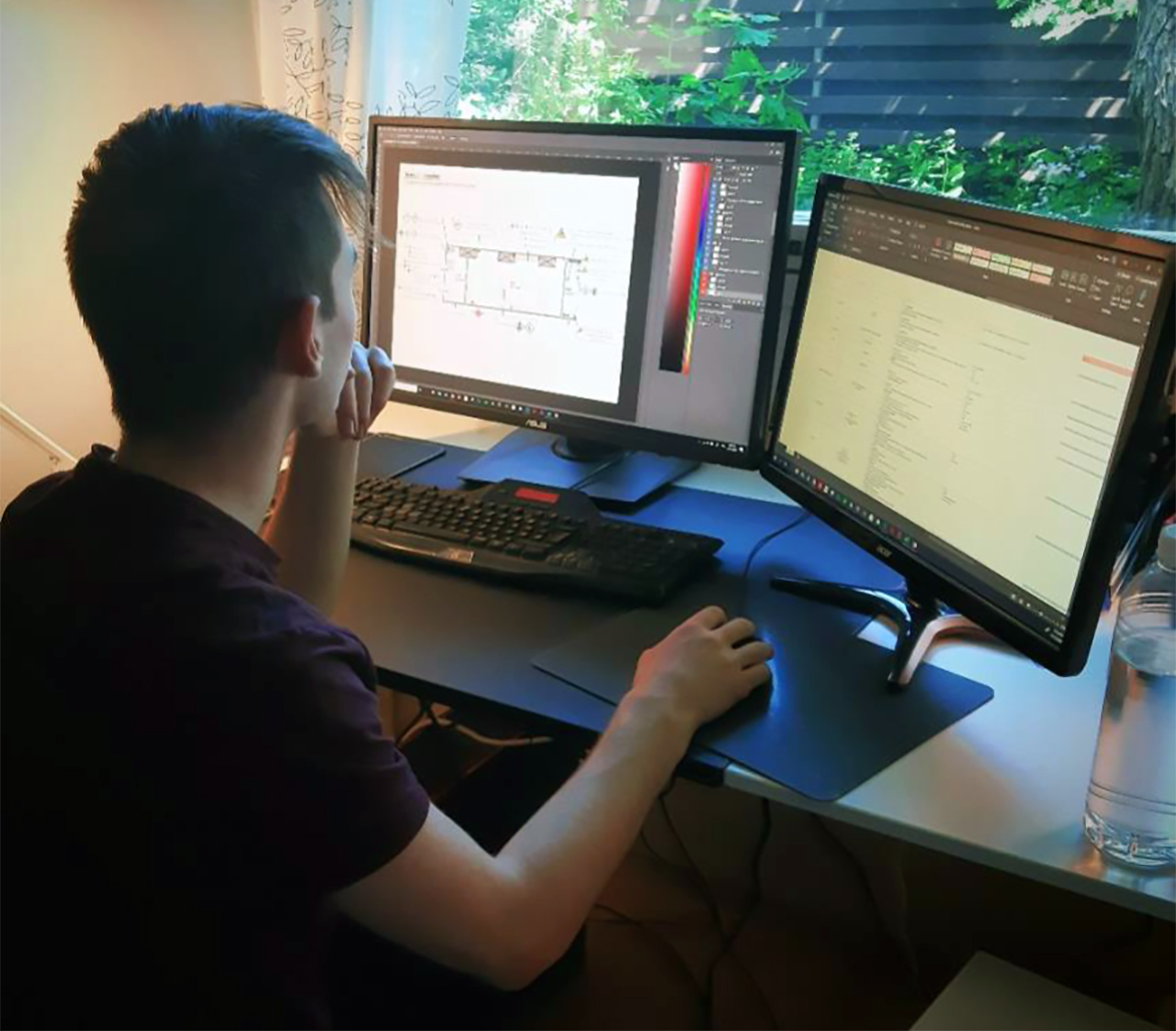 The excellent infrastructure of HIP Detector Laboratory serves well for introducing particle physics and its instrumentation for children and youth. Every year, we provide "road-shows" in public events organized by the University, such as Researchers' Night, bring-your-child-to-work, and tinkering events at University Think Corner. We also welcome high-school students into laboratory for familiarizing themselves with radiation detection. In addition, we have provided one or two week traineeships for middle school students. In summer 2020, two first-ever remote working summer trainees worked in the laboratory under the supervision of laboratory engineer Pirkitta.
Pirkitta, Laboratorioinsinööri. Kokemuksia etäkesätyön ohjaajana toimimisesta.
Kesällä 2020 toimin työnohjaajana kahdelle 17-vuotiaalle kesäharjoittelijalle. Heidän piti alun perin tulla kahdeksi viikoksi laboratorioon mutta koronavirus muutti suunnitelmat. Ilmaisinlaboratoriolla ei ollut aikaisempaa kokemusta alle 18-vuotiaiden kesäharjoittelijoiden etäohjaamisesta emmekä tienneet mistä olisi saanut neuvoja koska tilanne tuntui olevan kaikille uusi.
Ennen etätyön alkamista kysyimme harjoittelijoiden mielipidettä tulevasta etätyöstä ja tarvittavista välineistä kuten tietokoneista ja internet-yhteyksistä. Saimme kaksi jokseenkin samanlaista vastausta: "Zoom ja Teams tulivat tutuiksi jo keväällä etäkoulussa joten eiköhän tuo kesätyö hoidu samaan malliin".
Ennen kesää 2020 olen toiminut ohjaajana monille ilmaisinlaboratorioon TET-harjoitteluun tulleille nuorille. Olen huomannut, että asioiden näkeminen käytännössä auttaa työtehtävien hahmottamisessa ja nuoret suoriutuvat monimutkaisiltakin tuntuvista tehtävistä. Nyt kun laboratorioympäristöä ei ollut, aluksi nuorille suunnittelemani kemikaalilainsäädäntöön liittyvät tehtävät alkoivat tuntua huonolta idealta. Tämän vuoksi päätin hyödyntää nuorten omia kiinnostuksen kohteita kuten Maxilla photoshop-osaamista ja Kaarlolla kuvataiteita.
Ilmaisinlaboratorion ovien läheisyydestä löytyvät informaatiotaulut laboratorion vaarallisten aineiden ja laitteiden sijainnista ovat Maxin käsialaa. Työ sisälsi photoshopilla piirtämisen lisäksi paljon erilaista yksityiskohtien selvittelytyötä. Pääasialliseksi yhteydenpitokanavaksi muodostui WhatsApp.
Kaarlon kesätyönä syntyi lapsille suunnattu koulutusmateriaali ionisoivan säteilyn ilmaisimista. Kaarlo loi materiaaliin visuaalisen ilmeen ja kuvituksen. Itse toimin materiaalin tekstisuunnittelijana. Pidimme yhteyttä ennalta sovituilla Zoom-tapaamisilla. Nuorten etätyön ohjaajana toimiminen oli hyvin antoisa ja samalla uuvuttava kokemus. Omasta mielestäni tärkeimmiksi tekijöiksi työn onnistumisen kannalta nousivat mahdollisimman luontevan yhteydenpitokanavan löytäminen ja työtehtävien suunnittelu etätyöhön sopiviksi nuorten omia vahvuuksia hyödyntäen.
Summer trainee Max tells about his experience
How I ended up at the Detector Laboratory started with me wanting to work somewhere where I could learn something new. I didn't want to do superficial mechanical labour which would serve no other purpose other than convenience. I wanted something more than restocking products at a store and simply being a cog in the machine, so I took contact with the Detector Laboratory.
The previous summer that I worked on site at the laboratory was the most fruitful when it came to experience and learning. I was working on site, so I had better opportunities to ask a lot of questions and help with the measurements that were being made. Whenever something came up that I didn't know what it was or how it worked, I asked about it. I think the main reason that I learnt so much during last year's summer job at the lab was me asking a lot of questions and getting high quality answers to them. I do value questioning and I think it's a shame that many people lose that curiosity when they get older, so they stop asking a lot of questions which could otherwise further their understanding.
This summer however I worked from home and while I was able to hone my editing skills when I worked on designing a couple fire safety sheets for the fire department in case a fire broke out, I didn't have as many opportunities to ask questions that would've helped my understanding. While I did learn, I learnt less than I would've learnt on site.
While I found no issues working a summer job from home, there were different pros and cons between being at the lab and being at home. Working from home offered more freedom as to how I'd plan my day but as I've mentioned before, it wasn't as good when it came to furthering my understanding. Working on site had the benefit of me being more immersed into the environment and easily being able to ask questions. The tasks that I worked on were very similar at home and on site, but it offered more meaning to the work to see the results shown in real life. If I had to pick whether I worked from home or on site, I'd choose working on site simply for the fact that I'd have better opportunities to learn and further my understanding, but I have absolutely nothing wrong against working from home either.
Kesäharjoittelija Kaarlo kertoo kokemuksestaan
Kesätyöni piti sisältää kaksi viikkoa työskentelyä ilmaisinlaboratoriossa kemikaalilainsäädäntöön ja kemikaaliturvallisuusohjeisiin liittyvien asioiden parissa. Suunnitelmat kuitenkin muuttuivat covid-19 takia. Ensiksi oli tarkoitus, että työtehtävä säilyisi mutta tekisin työn etänä. "Ylemmästä johtoportaasta" tuli kuitenkin päätös, että kemikaalilainsäädäntö olisi liian tylsää yksin etänä tehtäväksi ja tehtävänkuvaa muutettiin. Uusi työtehtävä oli kuvittaa lapsille suunnattu koulutusmateriaali säteilynilmaisimista.
Harrastan piirtämistä, jonka takia tämä työtehtävä sopi minulle hyvin. Varsinkin toisella viikolla pääsin hyvään työrytmiin ja työn tekeminen ei tuntunut enää työltä. Piirtäessäni pystyin kuuntelemaan musiikkia, luentoja ja podcasteja, joten opin myös paljon muistakin asioista kuin säteilyn ilmaisimista. Minulla ei ole aikaisempaa työkokemusta, joten en voi verrata etäkesätyötä mihinkään mutta kokonaisuudessa pidin erittäin paljon tästä kahden viikon jaksosta.
Alkuun työn tekeminen tuntui haastavalta. En oikein tiennyt mitä tehdä ja aikaa kului turhiin asioihin. Vaikka olen piirtänyt paljon, en ole koskaan joutunut piirtämään tietyn aikataulun mukaisesti, joten alkuun etätyö oli minulle hieman vaikeaa ja ahdistavaakin. Etäältä töiden tekeminen käy välillä yksinäiseksi mutta onneksi pidimme melkein joka päivä Zoom-kokouksia ja tietenkin toisessa huoneessa etätyössä olevat vanhemmat olivat kotona. Vanhemmilta sai myös apua, vaikka sitä ei olisi pyytänytkään. Laboratoriossa työskentely olisi varmasti ollut hauskaa mutta minua ei oikeastaan haittaa, että työt olivat tällä kertaa etänä. Olen erittäin kiitollinen siitä, että sain tällaisen työkokemuksen.
Max, Kaarlo, Pirkitta ja Eija